About B88 Corporation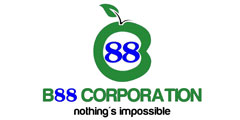 B88 Corporation is Food Manufacturing Compnay founded by eight (8) professionals from Batch 1988 of the Xavier University College of Agriculture.
MISSION:
1. To provide the best flavor of freshness in the market
2. To produce organic products through environment-friendly means
VISION:
To be one of the most successful global food and beverage companies that promote organic and naturally-made products
OBJECTIVES:
1. To develop and produce organic, natural and healthy food products initially attained from coconut-based product, which is safer for human consumption
2. To help provide livelihood for farmers by utilizing locally available raw materials and if possible, package using recycled materials
The ANSWER to a CALL
When eight people found themselves together during a college reunion, the last thing in their minds was getting into business. These eight professional already had their own careers to pursue so when they attended the alumni homecoming they only expected to rekindle friendship and bond with old friends; not ending up with a business proposition.

The business proposition had started with a challenge to support the Fr. William Masterson Scholarship Fund and XU Aggies Alumni Association Philanthropic Initiatives. Unsure of how they would be able to gather donations, they've decided to come-up with an activity of making a revolutionary TABON-TABON product.

And no sooner after that fateful night, the group adopted the name B88 Corporation, a name which refers to the year they all graduated (short for Batch 88).

With a starting capital of 200,000 the group began to develop their flagship product, Kinilaw Mix under the brand name Sugtukil. As its name connotes, the product is used in preparing Kinilaw, a favorite local Filipino Dish of raw fish soused in a special mix and served. It's a favorite staple' food during parties and gatherings and the group had thought of making it convenient for families to do it whenever they want.

Now that the business is expanding they already have other enticing local products.
Kinilaw Mix Super Hot – a new flavor of Kinilaw Mix Original but made sizzlingly hot.
Sukan Pachada - It is a condiments or saw-sawan.
Puro Tuba – an energy drink from the very sap of the coconut tree.

WHAT ABOUT THE FUTURE
Asked what their plan was in the future, they were sure when they said they are planning to export. Currently, they are focusing in penetrating the US market which is not far from reality.
They believe in making little dream a big reality, "Nothing's Impossible"…. that is their group motto
The Pledge
B88 Corporation is a food-manufacturing company founded by eight professionals from batch 1988 of the Xavier University College of Agriculture. This eight pledged to each other that they must do something to create an income in which proceeds would benefit the Fr. Masterson Scholarship Fund.
This circle of eight all believes that for a better future everyone must have a good education. As the founder, Mr. Marc Redila had said, "we truly believe that everyone should have the opportunity to improve themselves and we are committed to help people that want to move forward with education." That simple thought of charity from these eight circle of friends had actually helped to create a wonderful corporation that showcases local products.

And the company is pleased to say that they donate a portion of every bottle sold to the Fr. Masterson Scholarship Fund. B88 knows how difficult it can be to pay for higher education. Yet, they also believe that poverty must not be a reason to actually prevent someone that wants it to gain it.